Smart Strip Surge Protectors
Valley Rural Electric Cooperative sells high-quality "smart" surge protectors to its members at a cost of $39 plus tax for homes or businesses. These devices, another offering from the cooperative's Valley Rural Energy Services, can protect sensitive electronic equipment and appliances from power surges and spikes. The Smart Strips can also reduce standby energy loss, the electricity that electronics and appliances continue to draw even when they are in sleep mode or powered off. Use the control outlet to automatically shut off connected devices when not in use.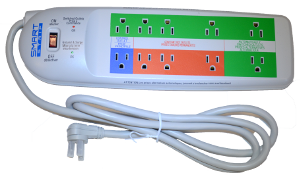 You may purchase these surge protectors at any of Valley's offices. You may also mail order these devices (with shipping costs added to the final total). For more information, review the brochure available at the link below.
Smart Strip Surge Protector Brochure (PDF, 441 KB)