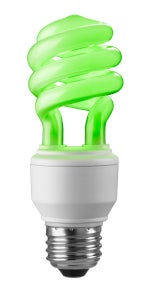 Co-op consumers as well as members of the general public may bring spent compact fluorescent lightbulbs (CFLs) to any Valley REC office, and co-op personnel will ensure that the bulbs are properly disposed of (compact spirals only, please).
CFLs contain a very small amount of mercury sealed within the glass tubing – an average of 5 milligrams (roughly equivalent to the tip of a ballpoint pen). Like paint, batteries, thermostats, and other hazardous household items, CFLs should be disposed of properly. Do not throw CFLs away in your household garbage if better disposal options exist. Energy Star-qualified CFLs have a two-year warranty. If the bulb fails within that period, return it to your retailer.
Valley Rural Electric Cooperative is proud to include this community service among the suite of offerings provided via Valley Rural Energy Services.
How Can VRES Help You?
Considering a generator, transfer switch, or whole house surge protector?
Need a new electric water heater?
Need an electrician or energy audit?
Interested in any of the services offered by Valley Rural Energy Services?
Then click the button below and tell us about your service needs.