SmartHub Overview
What is SmartHub?
SmartHub® is Valley REC's electronic account presentment and payment software. Created by National Information Solutions Cooperative, Inc. (NISC), SmartHub allows you, our members, to access your accounts online. You can use a web browser to access the system. Those of you with mobile devices that run iOS® (such as the iPhone® or iPad® devices) or AndroidTM can download and install a free app to access SmarthHub.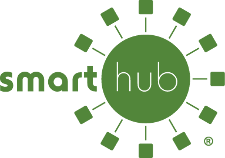 Replacing E-Bill, Valley's previous online bill payment system, SmartHub gives you the ability to do much more than view and pay your bill. Those functions exist in SmartHub, but they are much more user-friendly. You can make a one-time payment, or you can set up recurring automatic payments.
You can also manage what type of notifications you receive about your account (such as your bill is ready, your payment is due, or your payment has been posted). You can set up various contacts methods. These include an e-mail message to your default e-mail address (or an alternate e-mail address) or a text message to your mobile phone. You then specify which contact method should be used for which notification.
Monitoring your account is easy too. You can view your previous bills and payment history. You can check your energy use history and compare past bills. You can see your daily consumption. You can even report service issues and outages.
The following video provides an overview of SmartHub and the three ways to access it. The video will open in a new browser tab or window.
How do I use SmartHub?
If you already have been using the E-Bill software, your online account (including log-in information, password, and payment details) has been transferred to SmartHub. You can use the same log-in e-mail address and password to access the new system. Otherwise, you will need to create an online account by registering. If using a mobile device, you will first need to download and install the appropriate app. Step-by-step instructional sheets and videos are available at the links below.
I want to know how to access my account using ...
---
NISC and the SmartHub Logo are trademarks of National Information Solutions Cooperative, Inc. (NISC) in the U.S. and other countries. All documents and videos with links on this page are copyrighted ©2014 NISC.
Android is a trademark of Google Inc.
iPad and iPhone are registered trademarks of Apple Inc.
IOS (iOS) is a trademark or registered trademark of Cisco in the U.S. and other countries and is used under license by Apple.