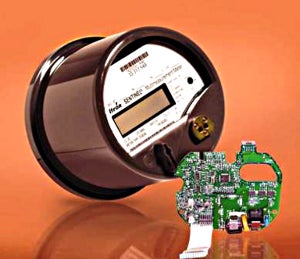 Residential members used to read their own meters, but they no longer need to do that. Automated meters, part of an advanced metering infrastructure (AMI) project completed in 2012, send their meter readings over the power lines to the cooperative's computer system.
It's still a good idea to track your electric consumption (kWh use) for your own information, so you might want to read your meter around the 27th of each month for that purpose. Our bills are designed to give you that information as well in a bar chart.
Your Questions Answered
What is Advanced Metering Infrastructure (AMI)?
AMI refers to a system that provides two-way communications between advanced utility meters and a utility's back-end information technology infrastructure. Here's essentially how it works.
Automated meters at each property on Valley lines send readings and other information electronically over the power lines to equipment at Valley's substations.
Computer equipment at the co-op's headquarters then uses a high-frequency radio communication system to obtain the information from the subs and automatically record it.
Why did Valley switch to automated meters?
One of the ways we look out for our members is by operating as efficiently as possible. When we can gain efficiency along with improved reliability and better energy information for our consumers, it's a winning combination. That's just what we get with AMI. This new metering technology benefits the co-op in a number of ways.
You no longer need to report meter readings yourself.
Since readings are reported electronically at the same time each month, you benefit from improved meter reading accuracy and consistent billing periods.
We no longer have to levy a trip fee to visit your property if a meter reading isn't reported in a timely manner.
The system helps us provide you with detailed daily use information and power consumption patterns. This can help you better manage your energy costs and pinpoint areas where you can save.
Power quality diagnostics help us determine the source of outages and confirm whether power has been restored at your property.
What specific information does the new meter provide?
It records kilowatt-hour use, the number of times a loss of power has occurred, whether or not the meter has been tampered with, and peak demand. It also records the date and time energy was used, if and when the lights blink, and how long power is out.
Does the meter automatically notify Valley when power goes out?
No. The meters operate on a polling basis and do not immediately notify the cooperative when an outage occurs. When you have an outage or emergency situation, you are encouraged to call 800-432-0680. The automated meter will help the co-op verify whether the problem is on the member's side of the meter or with our service.
Can Valley disconnect power using the automated meter?
Valley may install a separate disconnect collar with the capability to remotely disconnect the service. These collars would only be installed when necessary.