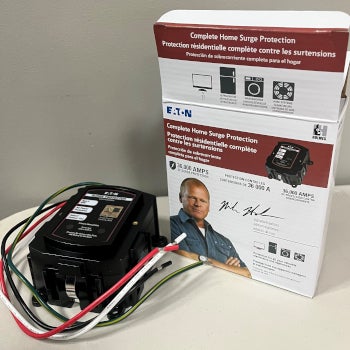 Unforeseen power surges can wreak havoc on your electronics such as appliances, computers, and entertainment systems. They can be the result of external sources, such as lightning strikes or outages, or internal sources, such as heating and cooling equipment or large motors. The unpredictable nature and timing of these surges make it impossible to ensure your costly electronics are protected.
Valley Rural Energy Services, a suite of energy services offered by Valley REC, sells and installs the Eaton Complete Home Surge Protection device. The unit provides up to 36,000 Amps of surge protection and meets both UL 489 and UL 1449 4th Edition for surge protection. It has clear, visible LED indicators that display the protective status of the device.
Our electricians can install the surge protection device at the service entrance of your home to provide premier protection on all electrical equipment. The unit works by reducing power surges to an acceptable level to ensure your equipment isn't damaged.
For pricing or additional information on the whole-home surge protector, please contact our electricians toll-free at 800-432-0680 or submit your inquiry using the button below.
How Can VRES Help You?
Considering a generator, transfer switch, or whole house surge protector?
Need a new electric water heater?
Need an electrician or energy audit?
Interested in any of the services offered by Valley Rural Energy Services?
Then click the button below and tell us about your service needs.