2023 Event
Date
Thursday, June 22, 2023
Location
Huntingdon Country Club
10305 Raystown Road
Huntingdon, PA 16652
Phone: 814-627-0631
Beneficiaries
Bentley Fulkroad
Bentley Fulkroad was born with a severe heart condition called tricuspid valve dysplasia, a congenital heart disease that cannot be cured. He has had five open heart surgeries since birth and was officially listed for a heart transplant on November 25, 2020. On May 9, 2022, he received the greatest gift, a new heart. His surgery lasted 14 hours, and doctors had to leave his chest open for four days. His body began rejecting the new heart, and he now must continually travel back and forth to Philadelphia for treatments. Bentley takes 20 syringes of medicine daily, which include two immunosuppressants that he will have to take the rest of his life. There is still a long road ahead for Bentley, but folks are praying that he soon gets to enjoy the feeling of a normal whole heart.
Samantha Wilson
Samantha Wilson was diagnosed with breast cancer in 2021 when she was 20 weeks pregnant. She began taking weekly chemotherapy treatments and delivered a healthy baby boy five weeks prematurely in July 2021. Samantha had blood pressure issues related to a genetic condition called SDHD gene mutation, which can increase the development of tumors. She has endured an adrenalectomy, a liver resection, multiple lymph node resections, a double mastectomy, and lymph node removal as well as daily chest wall radiation treatments, a brain tumor removal, and gamma knife radiation to her head. She graduated from Penn State University and is a registered nurse. Samantha is pictured here with her husband, Luke, and their son.
Stephanie Anders
Stephanie Anders (on the left) graduated from Juniata Valley High School and went on to earn her license as a practical nurse. She now works in the healthcare industry. She also served as the manager of the Alexandria American Legion. Stephanie was diagnosed with IgA nephropathy, an incurable kidney disease also known as Berger's disease, which caused stage 5 kidney disease and cardiomyopathy, a heart condition that makes it harder for the heart to pump blood. She must wear an external defibrillator continuously and receive dialysis seven days a week until she receives a kidney for transplant. Currently, her heart is not strong enough to undergo major surgery. Stephanie continues to work full time as a licensed practical nurse at Penn Highlands hospital.
Event Flyer and Registration Form
To help us properly plan for this event, please preregister. There are two versions of the combined event flyer and registration/sponsorship form: GoFormz and PDF.
GoFormz Version
You can view, complete, and submit the GoFormz version entirely online by using the GoFormz link below. Fill out the form on your computer or tablet device; iPhones and Android phones are currently not compatible.
2023 Valley REC Golf Outing Flyer and Registration Form (GoFormz)
PDF Version
Download the following PDF version of the flyer and form, complete it (on your computer or by hand), and either e-mail it or print and submit it by mail or in person.
2023 Valley REC Golf Outing Flyer and Registration Form (PDF, 1.6 MB)
Concern for Community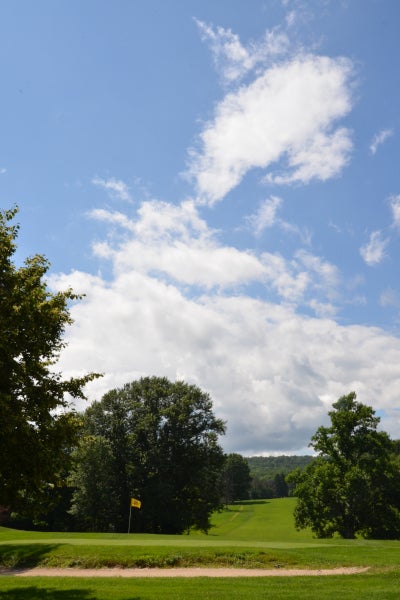 Valley Rural Electric Cooperative's employee health and wellness committee organized its first benefit golf tournament in 2012. Since that time, the golf outing has evolved into an all-hands-on-deck event that raises thousands of dollars annually for beneficiaries. Valley's corporate office and three district offices close on golf tournament day, often a Thursday in June. All employees lend a hand on the course for the culmination of an employee-driven fundraising effort for local families.
However, we could not do this without our sponsors, donors, and golfers. The generous support of a wide range of area businesses and individuals helps our beneficiaries better meet the financial challenges that all too often result from serious illnesses or accidents. Together, we have raised almost $280,000 since that first tournament.
General Event Details
The four-player scramble features morning and afternoon flights.
The registration fee is $100 per player, which includes 18 holes of golf, cart, breakfast, lunch, dinner, entry into all events, and various prizes.
Registration for the morning flight begins at 7 a.m. with tee-off at 8 a.m.
Registration for the afternoon flight begins at 11:30 a.m. with tee-off at 1 p.m.
A putting contest takes place all day.
Breakfast is provided from 7 to 9 a.m.
Lunch is provided from 11:30 a.m. to 1:30 p.m.
A buffet dinner starts at 5:30 p.m.
A 50/50 raffle and a silent auction also take place throughout the day.
Sponsorship Levels
Cart Sponsor - $25
Have your name and/or logo appear on a golf cart.
Hole Sponsor - $100
Have your name and/or logo appear on a sign at one of the golf holes.
Bronze Sponsor - $500
Receive the following benefits: lunch, dinner, snacks, event signage, bag of tricks, team entry, and two carts.
Silver Sponsor - $750
Receive the bronze level benefits plus two cart sponsorships and a hole sponsorship.
Gold Sponsor - $1,000
Receive the silver level benefits plus drink/snack cart sponsorship and two additional cart sponsorships.
Platinum Sponsor - $1,500
Receive the gold level benefits plus recognition as a dinner sponsor and special signage.
Contact Information
If you or your business would like to help sponsor the tournament or donate items for the silent auction, please contact Lisa Carper at 814-506-1637 or toll-free at 800-432-0680 ext. 1637. Lisa can also help with preregistration, prepaying online, and any questions you might have about the event.