As a member of Valley Rural Electric Cooperative, Inc., a Touchstone Energy® cooperative, you can receive discounts on products and services from participating local and national businesses. The Co-op Connections® member benefit program is absolutely free. In partnership with iBennie, a leading membership discount program, the Co-op Connections program gives you access to incredible savings on prescriptions, health services, travel, groceries, restaurants, events, insurance, and more.
Show It and Save!
Connections (HD) from Touchstone Energy Cooperatives on Vimeo.
Transcript of Connections Video
Save on hundreds of local and national discounts - pharmacy savings, online offers, discounts on events, online cash back shopping and more. Members can get their co-op discounts by shopping online through connections.coop, downloading the Co-op Connections mobile app, or using the physical card.
Here's what you get!
Local Co-op Deals
Get great discounts and special offers from businesses in your community.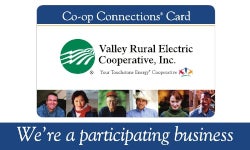 Visit the Co-op Connections website and register to view a list of participating businesses and discount offerings. New discounts are added periodically. You may also download and print a copy of Valley's list by clicking the following link, Participating Businesses of Valley REC (PDF, 165 KB).
Present your card (either the physical card or the card image in the mobile app) at participating businesses to receive discounts. The card is valid at any business displaying a Co-op Connections "We're a participating business" sticker from any Touchstone Energy cooperative.
National Discounts
Enjoy special offers and discounts from national chains that you know and love.
Healthy Savings Discounts






Touchstone Energy Cooperatives' Co-op Connections Program helps you save more and live healthier every day. The highly successful prescription discount offer is now joined by discounts on dental, vision, hearing, chiropractor, lab work, and imaging visits. Best of all, you get all these great benefits for FREE!
Pharmacy Discounts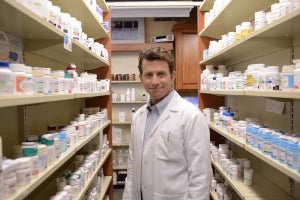 Receive 10% to 85% discounts on prescriptions at participating pharmacies. From September 2011 (when Valley REC first offered the program) through the end of May 2022, our members have saved almost $89,000 on 3,900 prescriptions. The average amount saved per prescription was 49.95%. Nationally, Touchstone Energy co-op members have saved over $100 million on prescriptions since the program began in 2007. More than 60,000 national and regional pharmacy chain stores participate, including CVS, Rite Aid, Target, Walgreens, Walmart, Weis, Giant, Martins, Giant Eagle, and many more. Search online to find discounted prices on prescriptions (www.rxpricequotes.com) and participating locations. Your card must have the NB logo or Express Scripts logo on the back.
Dental Discounts

Save at over 160,000 dental locations nationwide. Your card must have the Humana Dental Access logo on the back.
Vision Discounts

Save nationwide at over 20,000 vision providers, both local retailers and national chains. Your card must have the Coast To Coast Vision logo on the back.
Hearing Discounts
Get discounts on hearing tests and hearing aids at participating providers.
Chiropractic Discounts

Save 30% to 50% at over 3,000 chiropractic offices nationwide. Your card must have the UHS Chiropractic Network logo on the back.
Lab Testing Discounts
Get 10% to 80% discounts at over 1,500 major clinical laboratories nationwide.
MRI and CT Scan Discounts
Save 40% to 75% at thousands of credentialed radiology centers nationwide.
Diabetic Supplies Discounts
Receive up to 60% off average retail prices.
Note about Healthy Savings
If you have a Valley REC Co-op Connections Card that does not have the necessary logo on the back for the health discounts, you have several options.
Use the mobile app
Log into the Co-op Connections website. On the initial home page, scroll down to the "Download the mobile app" section and download the free Co-op Connections app which includes an image of the card with all the required logos.
Print a paper card
Log into the Co-op Connections website. On the initial home page, scroll down to the paper card section and click the "Print Card" button to print your own paper card.
Request a new card
Contact our Member Services department and ask us to send you a card. Please provide the name on your account and your account number or member (customer) number.
Travel Discounts
Save up to 70% off the public rates on hotels, car rentals, cruises, and attractions.
Event Ticket Discounts
Save 10% on tickets to sporting events, concerts, and theater shows via Premium Seats USA.
Looking out for you
This is just one more way you benefit from being a cooperative member. As a Touchstone Energy cooperative, we are always "Looking out for you." If you have any questions, please call Valley Rural Electric Cooperative, Inc. at 800-432-0680 or email Member Services.
Legal Notice
Healthy Savings discounts are Not Insurance and are Not Intended as a Substitute for Insurance. The discount is only available at participating providers.
ADDITIONAL TERMS AND CONDITIONS: The Co-op Connections Card has no cash value and is not redeemable for cash. The Card is nontransferable and may be used only by the Co-op member to whom it is issued. You must present your Card to receive discounts at participating businesses. Any unauthorized reproduction or misrepresentation of the Card is strictly prohibited. Neither Touchstone Energy Cooperative, Inc. nor any Touchstone Energy cooperative has any responsibility and shall not be liable for any problems with any products or services provided by participating businesses or for any inaccuracy in those businesses' advertising or marketing. The Card is the property of Touchstone Energy, and your right to use the Card may be terminated at any time by Touchstone Energy or your Co-op without notice. Discounts or offers available through the Card may also change from time to time without notice. Each participating business will decide the terms of the discount that it offers under this program, and some products or services may not be included. Please check with the participating business before making your purchase. Other terms and conditions of the Co-op Connections Card program are subject to change and may be posted at any time on Touchstone Energy's web site at www.connections.coop or the Co-op's web site at www.valleyrec.com without notice. Your use of the Card means that you accept these terms and conditions.