Valley REC's service area is divided into nine districts. One member from each district is elected by the members to serve on the cooperative's board of directors for a three-year term.
Board of Directors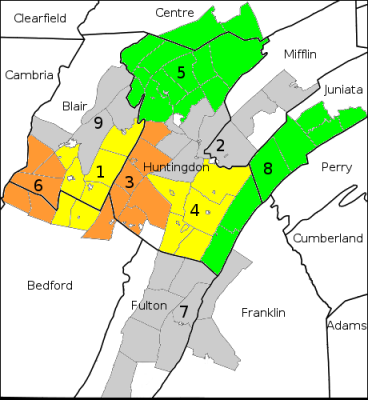 James R. Stauffer, District 2
Chairman
Allegheny/CCS Director
Leroy A. Barnes, District 6
Vice-Chairman
PREA Director
Cindy D. Bigelow, District 9
Secretary
Robert W. Holmes, District 5
Treasurer
Randall B. Huntsman, District 1
Gregory M. Henry, District 7
Linda J. McMath, District 8
Kevin R. States, District 3
Joanne Whitsel, District 4
This map shows the townships and boroughs that comprise each director district within the service territory of Valley REC. In the Director Districts section, the municipalities in each district are listed along with that district's director.
Director Districts
District 1
Randall B. Huntsman
Bedford County
Townships: Bloomfield, Woodbury
Blair County
Townships: Blair, Huston, North Woodbury, Taylor, Woodbury
District 2
James R. Stauffer
Huntingdon County
Townships: Brady, Henderson, Juniata, Smithfield, Union
Borough: Mill Creek
Mifflin County
Townships: Granville, Oliver, Wayne
District 3
Kevin R. States
Bedford County
Township: Liberty
Huntingdon County
Townships: Carbon, Hopewell, Lincoln, Penn, Todd, Walker
Borough: Marklesburg
District 4
Joanne Whitsel
Huntingdon County
Townships: Cass, Clay, Cromwell, Shirley, Springfield
Boroughs: Cassville, Saltillo, Three Springs
District 5
Robert W. Holmes
Centre County
Townships: Ferguson, Harris
Huntingdon County
Townships: Barree, Franklin, Jackson, Logan, Miller, Morris, Oneida, Porter, Spruce Creek, Warriors Mark, West
District 6
Leroy A. Barnes
Bedford County
Townships: Kimmel, Pavia
Blair County
Townships: Freedom, Greenfield, Juniata
District 7
Gregory M. Henry
Franklin County
Townships: Metal, Peter
Fulton County
Townships: Ayr, Belfast, Bethel, Dublin, Licking Creek, Taylor, Todd
District 8
Linda J. McMath
Huntingdon County
Townships: Dublin, Tell
Juniata County
Townships: Beale, Lack, Spruce Hill, Turbett, Tuscarora
District 9
Cindy D. Bigelow
Blair County
Townships: Allegheny, Catharine, Frankstown, Tyrone