April showers bring May flowers, but digging on your own this spring could bring big trouble. Even if you think you could get lucky or that digging one small hole (or two) won't matter, don't take for granted what lines might lurk beneath the soil in your yard or easement.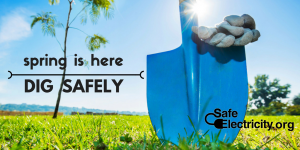 Before you use that shovel, spade, post hole digger, or other unearthing tools, STOP and call 8-1-1 to request that buried electric, gas, cable, and other live lines in or near your yard be marked. The service is free, but digging in an unmarked yard may not be.
You might think you don't have time for that and ask yourself, what's the worst that could happen?
YOU COULD DIE OR BECOME SERIOUSLY INJURED.
It doesn't make that yard project quite as pressing, does it?
Other consequences of blindly digging and taking a chance? You could cause a power outage. You could hit a gas line and get burned or cause an evacuation in your neighborhood. You could be fined. If you hit a telephone line or fiber optic line, you might lose your telephone, cable TV, or internet service. Worse yet, it could interfere with your neighborhood's emergency assistance technology.
Although it all seems like "your" yard, utilities have the right of way to the live lines lurking under the ground in places where you might dig. In fact, an underground utility line is damaged once every nine minutes across the nation because someone decided to dig without getting their yard properly marked, according to data collected by Common Ground Alliance. You may think one or two "small holes" won't matter, but that's what the person thought who hit a line nine minutes ago.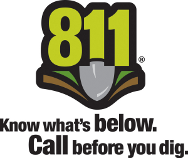 Take a deep breath, look over your landscaping or fence plans, and call 8-1-1 before you dig. Each state has its own call center to help you get digging safely. You might know the service in your state by a different name — Pennsylvania One Call (PA One Call) here in the Keystone State — but 8-1-1 is the one-call-fits-all in the U.S. By calling 8-1-1 or your state's digging call center directly (1-800-242-1776 in Pa.), utilities or the companies they contract with will come to your home and mark your yard before you dig.
Valley Rural Electric Cooperative and Safe Electricity remind you that the Call 811 website Call811.com lists the name and contact information for each state's digging notification service. The site also lists the advance notice required for marking services, which is three business days in Pa., not including the day you call.
So tiptoe through the tulips this spring and summer, both literally and figuratively. Know what's underneath that flower bed and everywhere else in your yard. As Call811.com says, "Know what's below." Then dig safely.
To learn more about electrical safety, visit SafeElectricity.org .