We use electricity every day. This invisible force has become so commonplace that it can be all too easy to overlook possible electrical hazards, even in the safety of our own homes. May is National Electrical Safety Month and a good time to put the most important safety tool you have—your brain—to work.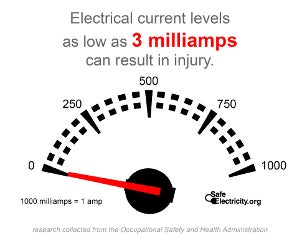 The Occupational Safety and Health Administration warns that electrical current levels as low as 3 milliamperes can result in injury. (1,000 milliamperes equal 1 ampere.) In a 2009 report on electrocutions associated with consumer products, the U.S. Consumer Product Safety Commission estimated an average of 70 fatalities per year (from 2007 to 2009). The most common product categories associated with these electrocutions were small appliances, large appliances, and power tools.
Knowing what to be on the lookout for and knowing the safe steps to take can make all the difference in preventing accidents. Safe Electricity offers the following home safety tips to help arm you with the knowledge to stay safe and help others stay safe.
Always read and understand the operator's manual before using an appliance or tool.
Make sure recognized safety laboratories (like UL, ETL, or CSA) have certified the electrical appliance, tools, and cords you plan on using.
Never use a product with a damaged electrical cord.
Never use extension cords on a permanent basis.
Only use extension cords properly rated for the devices you plan to plug into it.
For the safety of children in your home, install tamper-resistant outlets or protective coverings.
Don't overload outlets or circuits. Plugging too many items into an outlet or drawing too much power on a circuit can cause overheating, fire, and damage to devices.
If your outlets are warm to the touch, immediately shut them off at the circuit breaker, and contact a qualified electrician to make repairs.
Install ground fault circuit interrupter (GFCIs) in areas that may be wet or damp. GFCIs help protect against electrical shock. Use the test and reset button monthly to ensure they are working properly.
Never use power tools outdoors if it is raining or the ground is wet.
If an appliance repeatedly blows a fuse, trips a circuit breaker, or has given you an electrical shock, immediately unplug it and have it repaired or replaced.
Look up for power lines when using long metal tools like ladders, pool skimmers, and pruning poles to stay safe. Keep the tools and yourself at least 10 feet away from electric wires.
Call 8-1-1 at least three business days before you plan to do any digging.
To learn more about electrical safety, visit SafeElectricity.org .