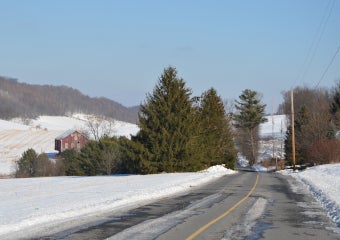 The winter solstice marks the start of winter, the shortest period of daylight, and the longest period of darkness. While the hours of darkness and the need for lighting start decreasing, heating costs can start increasing as the coldest months arrive. Follow these tips to save energy and money during the winter season.
Close shades and drapes at night to keep heat inside your home.
Open shades and drapes during the day to catch free solar heat.
Ensure windows and doors are properly weather-stripped.
If your health or age permits, set your thermostat to 68 degrees Fahrenheit (and even lower when you are sleeping or away from home).
Install a programmable thermostat (and program it) to automate raising and lowering the temperature settings.
Change HVAC filters monthly.
Close fireplace dampers when not burning a fire.
When using the fireplace, reduce heat loss by opening the damper in the bottom of the firebox (if provided) or opening the nearest window slightly.
Caulk around plumbing penetrations that come through walls or floors beneath bathroom and kitchen sinks.
Caulk along baseboards with a clear sealant.
Caulk around storm windows and basement windows.
Ensure the attic access door closes tightly.
Insulate the attic access door.
Use heavy-duty, clear sheets of plastic on the inside of windows to reduce the amount of cold air entering your home.
Verify all outdoor doors (including storm doors) close and seal tightly.
Photos by Valley Rural Electric Cooperative